Some stuff from the climbing competitions, mountains and sea shores of this autumn:
Speed:
Lead:
Multi-Pitch:
Titlis forth face: Matthias Trottmann has just opened and red-pointed the most beautiful multi-pitch route I've ever seen, and I had the honor and pleasure to accompany him for his first ascent. (He red-pointed all 12 pitches on that day, while I only led the easier ones). This is a 500m wall of perfectly solid, mostly overhanging rock, with a 5-star hotel appartement (read: cave) right in the middle of the route :-)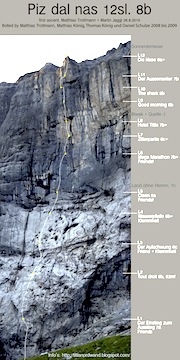 Besides being a perfectly beautiful and also secure route, rumors are that this is currently one of the hardest multi-pitch routes in a north face of the Swiss alps.
DWS Mallorca:
And finally here on YouTube we have a few strange short clips from our fun Mallorca trip of this year: